Tue, 22 April 2008
Irene Gammel on Lucy Maud Montgomery & Anne of Green Gables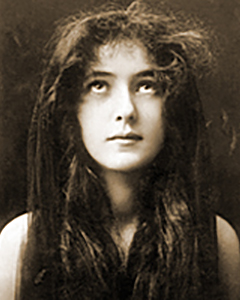 Evelyn Nesbitt, whose looks Anne Shirley's are modeled on.
Biography as Screaming Farce:
Find out why L.M. Montgomery was so skeptical about biography despite spending endless hours shaping and re-shaping her journals for public display; using them to incubate ideas for her novels. Find out too how biography can, according to Ms. Gammel, provide valuable cultural and historical context within which to interpret, understand and appreciate works of art. And, if this isn't enough, listen to what makes Anne of Green Gables a classic: how it appeals to young and old, takes Emerson, gives him a heart, tempered with satire, how it appeals to universals, answers yearnings with pagan fairy tales, subverts and transcends the formulaic, and traces the lives of characters who evolve from stereotypes to complex, contradictory human beings.
If this still doesn't do it, or even if it does, buy the book, Looking for Anne, written by Irene Gammel who, in addition to owning a delightful Montgomeryesque style, shares many of the characteristics of the heroines she so admires.
Listen here:

Copyright © 2008 by Nigel Beale
---
Sun, 20 April 2008
William Deverell on how to write Literary Crime Mystery Novels
William Deverell, has been widely hailed as Canada's greatest 'literary mystery' writer. This from his website:
"Deverell worked as a journalist for seven years, with Canadian Press Montreal, the Vancouver Sun and the Saskatoon Star-Phoenix, where he was night city editor while at the University of Saskatchewan law school and editor of the student newspaper.

As a member of the British Columbia, Alberta and Yukon Bars, he was counsel in more than a thousand criminal cases, including thirty murder trials, either as defender or prosecutor. He is a founding director, former president, now honorary director of the B. C. Civil Liberties Association.

His first novel, Needles, won the $50,000 Seal Prize in l979 and the Book of the Year Award in l98l. His subsequent novels include High Crimes, Mecca,The Dance of Shiva, Platinum Blues, Mindfield, Kill All the Lawyers, Street Legal – the Betrayal, and he is author of the true crime book A Life on Trial – The Case of Robert Frisbee, based on a notorious murder trial which he defended…Trial of Passion won Canada's 1997 Arthur Ellis prize in crime writing, and the Dashiell Hammett award for literary excellence in crime writing in North America. "
Our conversation explores Deverell's oeuvre in light of the question: How to write a great crime novel? Humour, complex characters, contentious relationships and appropriate use of 'the clock' all feature prominently in Deverell's work, and contribute to what makes it award winning.
Twenty odd years ago my wife and I rented a cottage perched at the edge of the Rideau River for a weekend getaway. I cracked Deverell's Dance of the Shiva shortly after arriving. Couldn't getaway from it. Couldn't put it down. After finishing it, couldn't understand why Deverell wasn't as popular as Turow, Cornwell, Ellroy or Rendell. Still can't.

---
Sun, 6 April 2008
David Solway on What makes a Poem Great?
In honour of Poetry Month, here is my interview with Canadian poet, critic and more recently, political writer, David Solway. We first discuss what constitutes a great poem in the context of 'political' and other agendas that some poets incorporate into their work. According to Solway, great poems consist of authentic, incontestable, memorable language, with vivid power, lapidary quality and prodigious rhetorical flow, which takes time, education, reflection and maturity to work itself into themes of human importance; synoptic views of the complexity of human life; a confluence of eloquent language and major subject which has something important to say and which will resonate with contemporary and future generations.
Great poems are like Switzerland, says Solway: candidates must pass through a stringent, careful, fine-meshed filter before they are granted citizenship.

It is posterity that decides what is great. Aphoristic memorability and the wish to keep the words alive in the mind, determines its greatness.
Listen here to part one of our conversation:
---